Award-winning artist, Robin Deruchie, was born and raised in Ontario, Canada. His passion for art began at the early age of nine. Inspired by nature and wildlife, he painted his first acrylic painting of a tiger and his artistic talent became evident.
Artist Inspired by Wildlife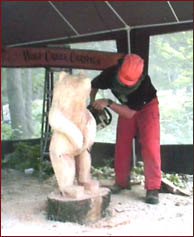 At the age of 18, Robin moved from city life to the wooded lands of Ontario, and now resides on Wolf Creek in the Land O' Lakes region. Here, he has found much inspiration from the secluded area's wildlife including bears, deer, birds, and moose.
Wood Carving
Having always had a passion for working with wood, from woodburning to carpentry, the art of carving came second nature to Robin, who invisions a form in a log before ever choosing to carve it.
Robin lives in Cloyne, Ontario and can be reached at info@wolfcreekcarvings.com.